TL;DR:
Spotify uses iconik to manage its podcast media—currently over 600 TB of raw assets.
A hybrid-cloud workflow has replaced a pure external hard drive workflow at Spotify.
Creative teams at Spotify use shared storage that's managed by iconik in the cloud.
Spotify has introduced iconik into the workflows of its podcast production studios.
Spotify has been providing streaming music services since 2008. Spotify and iconik both originate from Stockholm, Sweden. Being so close, we've been able to watch Spotify from early on. Since then, they have helped put Stockholm on the global startup map.
Ejecting an External Hard Drive Workflow
One of the first challenges Ben took on was to remove the limitations presented by an external hard drive workflow.
The limitations included:
The workflow centered around duplicating content
It could not scale-out easily
It slowed production
It required frequent backups
It required moving content between drives for editing
It came with logistical challenges and liabilities when shipping physical drives between locations
It was quite a large challenge for just one person, so Ben reached out to Peter Price at CHESA to help him build a new solution.
"When we first met with Spotify, we knew that they needed a scalable and flexible eco system to manage their media, which could equally be customized by comprehensive and available API's. iconik fit that requirement perfectly"
Here is what they did:
On-premise content is stored on Open Drives shared storage in multiple geographic locations, and indexed in iconik. The iconik Storage Gateway (ISG) manages these storages and sends proxy versions into the iconik cloud. Any content stored in the cloud is also indexed in iconik. This offers a complete view over all assets in the different locations from anywhere. Users can then use iconik to search, preview, download, and request the originals as needed.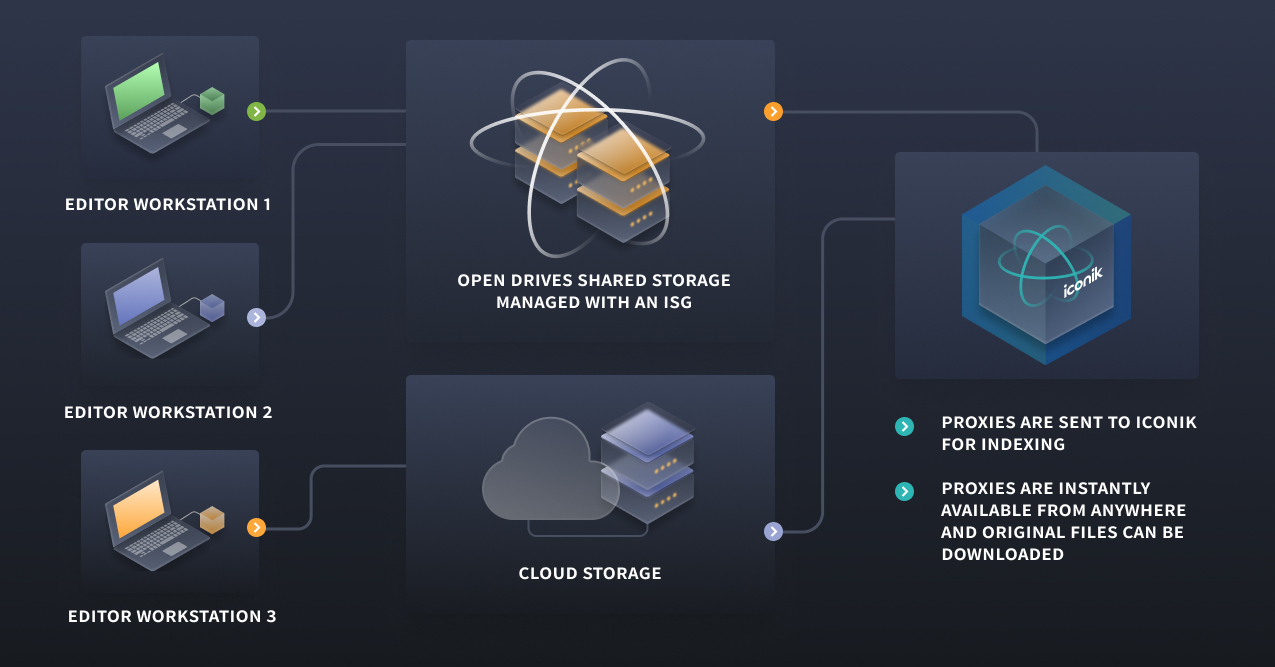 Now, all of Spotify's podcast content is available to editors from the cloud. No more shipping hard drives!
Files at the Ready
Another challenge was creating a solution for quick asset recovery. Spotify had creative teams all over the country who had created terabytes of B-roll footage. The previous media management solution was not intuitive. Editors could spend hours searching if they didn't know many details about the media they needed.
"It used to be convoluted to find assets, but now it can be a three button click. The time saved by this excited many of our key stakeholders, which made iconik buy-in that much stronger at the start."
With iconik managing all of Spotify's podcast media assets, there is a whole suite of tools to help creative teams find media fast.
Editors can retrieve whatever assets they need with search tools like:
Visual AI Auto-Tagging - Artificial intelligence can recognize every detail in media. Colors, subjects, feelings, and environments become searchable.
Search for Spoken Phrases in Transcripts - Transcriptions become part of an asset. This means editors can locate a video by searching for dialog. Each word becomes a part of the asset metadata.
Filtered searches - Standard and custom search parameters make finding assets less like a needle in a haystack and more like fish in a barrel. Filters can include date, file type, media format, and AI tags.
Saved searches - Users can save filters and search parameters to recall the search results again. Saved searches save the search—not the results. This way the results are always up to date.
Discovery View - User content recommendations based on activity and admin selections.
With media assets so easy to find in iconik, teams are finding more uses for them. Everything is visible and nothing is wasted.
Connecting Creators
Spotify has five studios under it making podcast and video content. The episodic nature of podcasts requires quick delivery times and rotating teams of freelancers.
That's a lot of people who need to stay in sync with each other.
To begin with, none of the five studios used a media management solution. This made it easy to introduce iconik into their processes. The primary purpose of iconik here is to provide Spotify access to the final master assets. Assets are then backed up to the cloud and tagged.
Each studio has its own well-established way of working. Spotify made sure to create solutions that wouldn't be disruptive or add complexity. The ISG allowed iconik to be inserted wherever it worked best. No major changes were required, and each studio gained the advantage of the hybrid cloud.
With iconik managing Spotify's media, it made sense to use its collaboration features as well. Other video collaboration tools had been used in the past, but iconik could replace those and simplify things even more.
"One of the most appealing things about iconik is that it's a one-stop shop for post-production. We've been able to streamline our workflow significantly by combining asset management with the sharing, collaboration, and transcription tools inside iconik."
Today, iconik is very embedded into the everyday workflow of Spotify's video teams.
Video teams use iconik to :
Browse content
Search for media
Share media
Import media to Adobe projects
Review content
Comment and draw on video
Transcribe media
Establishing a Creative Hub
The ease at which iconik has fit into so many workflows already has led to plans for even further integration. With the continued help of CHESA, Ben is designing new workflows to tie more of Spotify's 3rd party services into iconik. The agility of iconik allows it to be woven through the entire media lifecycle.
"The API first development of iconik allows us to connect it to other products and services we use. This will be a great advantage as we scale out."
Now with an infrastructure that's built to scale, Spotify can continue to create and grow its podcast operations without limitations.
"iconik grows with your creative organization's needs."    
   
Listen to this episode of The Workflow Show to learn more about Ben Meador's work and Spotify's podcast media workflow.